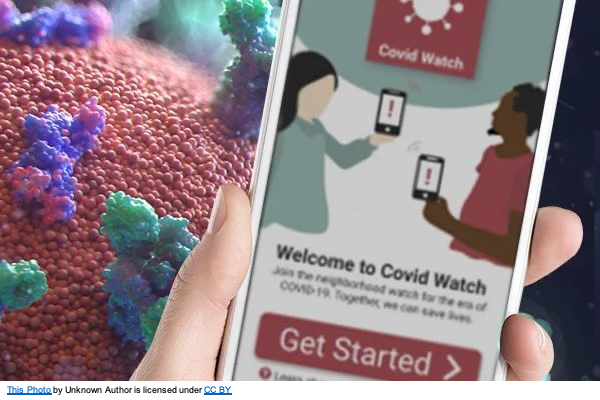 By CHHS Extern Carly Yost
Public health jargon, previously only known by professionals in the field, is now a part of most people's everyday vernacular. Due to the global pandemic caused by the emergence of COVID-19, contact tracing is among those previously unknown terms that are now a part of everyone's daily lives. Several large cities across the United States have recently hired hundreds to thousands of new contact tracers in hopes to contain the spread of COVID-19 as restrictions on Stay-At-Home orders are lifted. At the same, Google and Apple released software that would allow cities to create contact tracing apps which residents would download on their phones. While the concept of contact tracing may be now well-known, the application is still lackluster. The responsibility of contact tracing for public health ultimately falls on local government, but both individuals and companies can play their own role in contact tracing and help fill the gaps where local jurisdictions are struggling.
In the past few months, many local health departments have gone from employing a handful of contact tracers to hundreds and thousands. During this pandemic, contact tracers reach out to everyone who tests positive for COVID-19 and find out contact information for anyone who they have come in contact with in the past 14 days. However, in New York City, of those who tested positive, less than 50% gave contact information for those these came into contact with in the 14 days before the positive test. Privacy concerns seem to be the United States' general deficiency in contact tracing in comparison to other countries. For example, other countries have required people to write down their contact information when entering businesses or large gatherings, in order to have a reliable method to trace contact even with people unknown to the person who tested positive for COVID-19. Without these kinds of regulations in the United States, it will remain a difficult task for contact tracers to find any strangers an infectious person may have come into contact with.
Although cites in the U.S. have not implemented similar methods, some have encouraged individuals to keep their own log. Upon a new phase of reopening for the city, Baltimore City Health Commissioner, Dr. Letitia Dzirasa, advised individuals to "[keep] physical or digital note of places they visit and instances and times in which they were in close contact with others for a prolonged period of time. This means places where you've been closer than 6 feet to others for longer than 15 minutes." This individual contact log will make the work of the 300 new contact tracers hired by Baltimore City much more timely and effective. While the CDC website does not contain any specific guidelines for individuals tracing their own contacts, it does state that contact tracing is the key to slowing the spread of COVID-19. According to the CDC, a contact tracer will ask everyone to list names of those for whom they have been within six feet for over 15 minutes during the time they may have been infectious, and it seems keeping a personal log can only help during this process.
Not only local governments and individuals, but also companies have a newfound interest in contact tracing as they hope to bring their workforce back into full operation. The basics being recommended by most health departments for businesses are temperature and health screenings, but businesses are certainly going beyond those measures to track employees' movement once inside the building, through cell phone apps, VPN tracking on work-issued laptops, badges, or even light sensors. This of course brings up privacy concerns with an intersection of employment law, health law, and privacy law, with experts advising the best course of actions would be a vetted cell phone contact tracing app. With effective contact tracing, offices can be more assured that once they reopen, they will remain open and if one person gets sick, there is a lower probability that an outbreak occurs across the entire office.
Contact tracing may seem as though it is just a new buzzword, but the CDC, health departments, and other experts continue echoing its utmost importance during the COVID-19 pandemic. Now is the time when individuals should consider what part they can play in contact tracing, to assist with the local resources already in place. Maintaining a log of people you come into contact with for will aid contact tracers if you do test positive for the virus. Continuously following CDC guidelines will slow the spread of COVID-19, thereby making contact tracing more manageable. Additionally, as businesses begin to reopen, research and precautions should be taken to limit the spread of COVID which means effectively tracing contact while not violating privacy laws. Better Business Bureau Northwest and Pacific gave precautionary tips to employers hoping to utilize contact tracing, particularly to pay attention to how and where data is stored, who has access to collected data, and how much information is shared with employees. The resounding advice for employers shopping for contact tracing applications is to find one which does not permit the employer to access the data and keeps the data anonymous and preferably stored on the user's device. The key is protect the individual's right to privacy, especially concerning health data, while mitigating a "direct threat" to the health and safety of everyone in the workplace. As public health experts have long-known, contact tracing is now a societal responsibility and an operational necessity.
https://www.mdchhs.com/wp-content/uploads/2020/07/Picture1.png
400
600
CHHS Research Assistants & Externs
https://www.mdchhs.com/wp-content/uploads/2018/12/chhs_logo_header.png
CHHS Research Assistants & Externs
2020-07-13 13:30:38
2021-05-03 08:40:58
Unpacking Contact Tracing