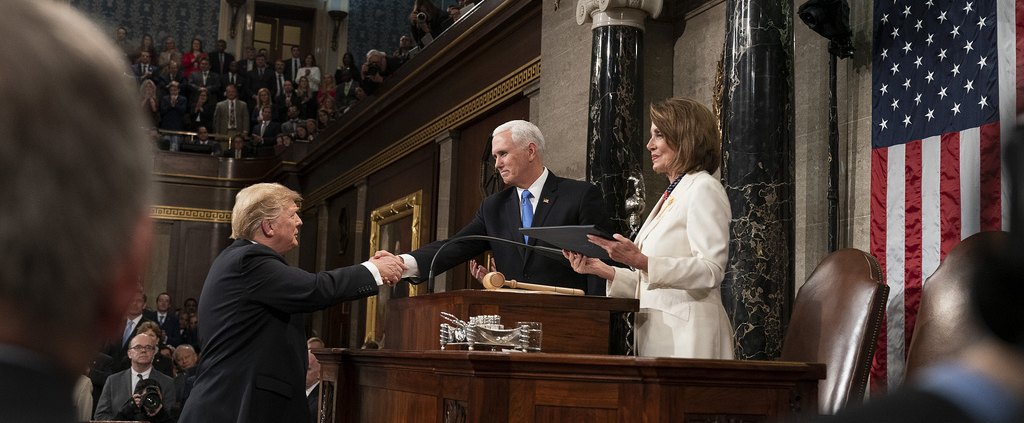 The State of Cybersecurity at the State of the Union: Largely Forgotten
By CHHS Extern Adam McCormick
On February 5, President Donald J. Trump delivered his second State of the Union Address, all but ignoring cybersecurity. The lengthy 82-minute speech touched on immigration, the economy, bipartisanship, and the military. The lone mention of a tech related issue was a brief jab at China for "years of targeting our industries and stealing our intellectual property."
In the past several years, cybersecurity has become one of the fastest growing industries and topics in the country. Election meddling, attacks on the power grid, and cyber assaults on the country's largest corporations have all become reality.
In a speech reportedly designed to foster bipartisanship, a mention of bolstering military cyber capabilities, creating information technology job programs, or hardening the infrastructure against cyber attacks could have garnered a rare standing ovation from both sides of the aisle. Cybersecurity is one of the few topics in which both Republicans and Democrats agree on the fundamental principles. Multiple bipartisan bills have been introduced in the past year relating to the topic.
Outside of the State of the Union Addresses, the Trump administration has not been silent on the issue, this past year releasing a National Cyber Strategy and signing a bill creating the first cybersecurity defense agency. In a year defined by political gridlock and decisive midterm wins for Democrats, both topics could have easily been presented as wins for the President. Instead, he mostly focused on divisive issues that might further poison the well.
The topic of cybersecurity is not without controversy for President Trump. The Russian meddling in the 2016 election remains a topic he either refuses to discuss or outright denies. The related 2017 Intelligence Community Assessment determined that Russia ordered an influence campaign during the presidential election designed to assist then candidate Trump. Further, the President has demonstrated limited knowledge on the topic, referring to it as "the cyber." Similarly, his cybersecurity advisor, Rudy Giuliani, faced widespread ridicule recently after mistakenly accusing Twitter of "allow[ing] someone to invade" his account.
Downplaying cybersecurity during the State of the Union is not unusual. During his 2018 State of the Union, President Trump failed to reference cybersecurity and other tech issues. Similarly, in his 2014 address, President Barack Obama only made passing reference to "information security" after devoting a small portion of his 2013 speech on the topic. President Obama's final 2016 address devoted more time on the issue, mentioning "data management" and "cyber threats."
Cybersecurity is no longer a fringe topic and should not be treated as such by the President during the year's biggest speech. The state of cybersecurity in the U.S. may not necessarily be weak, but it certainly seems ignored by those in power. To the nation's cyber adversaries, the President's silence signifies that continued attacks will be downplayed, if not tolerated. Even a brief rally for increased focus or spending on cybersecurity would have served as a unifying moment for the country in the face of mounting threats.
https://www.mdchhs.com/wp-content/uploads/2019/02/Trump-SOTU.jpg
683
1024
CHHS Research Assistants & Externs
https://www.mdchhs.com/wp-content/uploads/2018/12/chhs_logo_header.png
CHHS Research Assistants & Externs
2019-02-19 14:36:27
2021-05-03 08:43:10
The State of Cybersecurity at the State of the Union: Largely Forgotten